Women's employability continues its upward swing, moving from 38% in 2017 to 46% in 2018 and 47% this year

MBA students have taken over the top slot as the most employable graduates with a 54% score as against the nearly 40% in the last two years. While management graduates were found to be the most employable, the scores for engineering BTech/BE graduates has dipped significantly falling to 49% as against 57% in the previous year.
These were some of the key findings of the India Skills Report 2020, a joint effort of CII, AICTE, AIU, UNDP, Wheebox and Taggd by PeopleStrong.
Talking to Education Times, Sougata Roy Choudhury, executive director, CII, says, "MBA institutes are industry-driven which makes their curriculum flexible and adaptive to changing market demands."
He attributes the dip in engineers' employability to the mushrooming of technical institutes over the years where quality, he says, has taken a backseat. "In the CII model career centres (which are industry-led employment exchanges), we are witnessing a dip in the demand for engineers. Looking at the campus placements too, engineers are being increasingly hired for multifarious job roles which are not in consonance with their core competencies."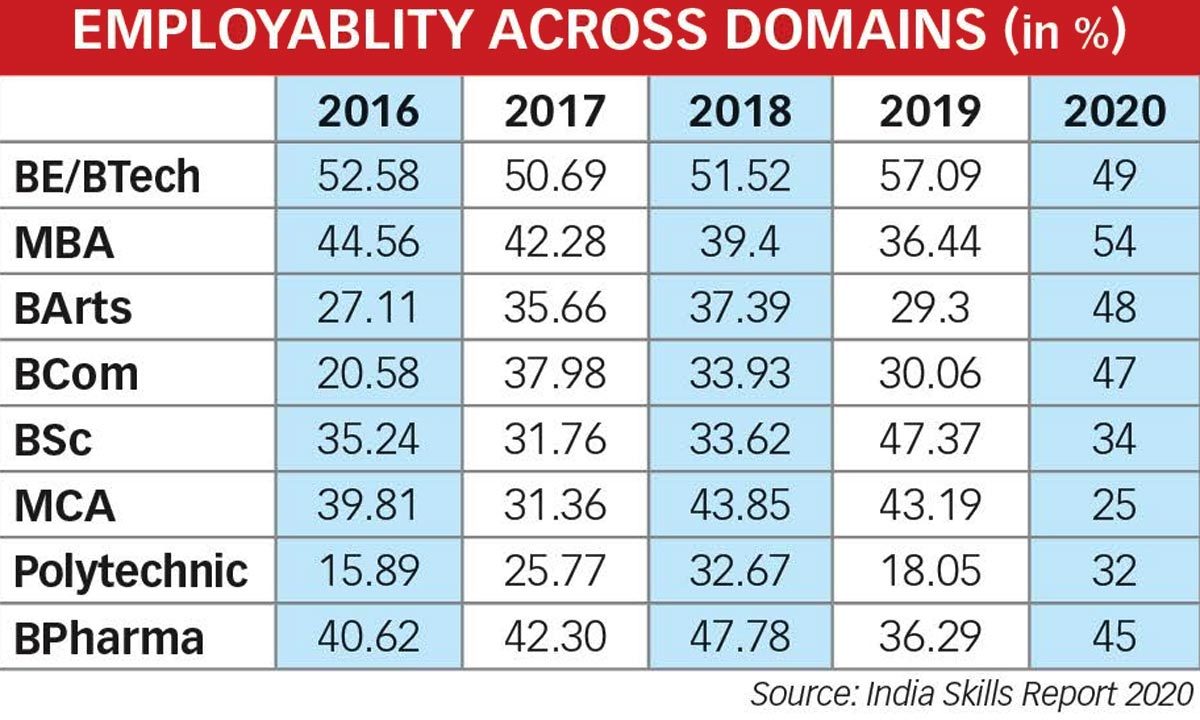 Overall, the employability trends in the last six years according to the report have been positive moving from around 33% in 2014 to around 47% in 2019. "With greater exposure to industry and technology-led learning tools, the employability percentage of the youth has gone up," adds Roy Choudhury.

The report also points to a decline in MCA graduate employability by almost 18% and a similar dismal picture is evident in the technical and computer-related courses. While India is considered an IT hub and AI, data analytics, robotics, AR/VR and automation are opening up a whole host of job opportunities, these findings may seem ironic, but not surprising, Roy Choudhury says. "Industry is engaged in upskilling the cream of the lot in premier institutes while the average employability in the large number of IT-driven institutes has declined."


The report also claims that to fulfil the skills training and internship needs, over 65% of students asked for support from educational institutions. "Industry-academia linkages are key to this trend. For instance, even NASSCOM has created a platform called 'Future Skills' which invites organisations to upload their training and curricula in AI, robotics etc for the youth to access. That apart, academia is also

integrating AI, robotics, data analytics as part of its curricula for industry-ready graduates," Roy Choudhury adds.


Women workforce

With the survey claiming that women are as employable as the men moving from 38% in 2017 to 46% in 2018 and 47% in this year, less number of women are now dropping out of education because of conducive social changes.

However, women participation in jobs is low with less than 25% women at work as against 77% in case of the men. Many industries are taking a focussed approach towards gender diversity which might swing things in their favour. Hyderabad, Ghaziabad, and Visakhapatnam are the three cities that have the greatest concentration of the most employable female talent pool.


[ad_2]

Source link

Tags: