NEW DELHI: Bihar School Examination Board (BSEB) has released Secondary Teacher Eligibility Test (STET) schedule for 2019.
The BSEB chairman Anand Kishore informed that the Bihar STET exam will be conducted in two shifts on January 28, 2020.
In first shift STET Paper-I examination will be conducted from 10:00 am to 12:30 pm and in the second shift the Paper – II exam will be held from 02:00 pm to 04:30 pm.
Candidates should note that the attendance of the candidates taking part in the Bihar STET will be registered biometrically and the jammer (phone) will be used in all the examination centres.
It is informed that this time in the Bihar SET exam, which is going to be held on January 28, 2020 a onetime age relaxation of 10 years has been given and eight year age relaxation is given to the Computer Science candidates.
Bihar STET 2019: Important Events and Dates
S. No.
Event
Date
1
Start Date of Online Registration
December 20, 2019 – 11:00 AM
2
End Date of Online Registration
December 24, 2019 – 11:59 PM
3
Last Date of payment of Application Fee
December 24, 2019 – 11:59 PM
4
Edit of Application Form (Only for the
applicants who have completed
Online Application)
December 25, 2019 to
December 26, 2019 – 11:59 PM

Direct link to apply online for Bihar STET 2019Due to the granted age relaxation, the STET 2019 Committee has allowed candidates to submit online application and fee from December 20, 2019 to December 24, 2019. Also candidates are allowed to make corrections in their application form from December 25, 2019 to December 26, 2019.
Bihar STET 2019: Minimum qualifying marks for passing TET
To qualify in TET Examination the candidate must score at least 60% marks. However, 5% relaxation in marks will be given for candidates belonging to SC/ST/OBC/MOBC/PWD. The candidate whose degree of physical disability is more than 40% are only eligible to apply, under the PWD/PH Notwithstanding the minimum prescribed marks secured in STET Examination, the number of candidates declared as TET Examination qualified would be a maximum of double the number of vacancies of Teachers and such candidates will be determined as per merit position.
Bihar STET 2019: Validity
All candidates who pass the Bihar STET will be awarded a certificate. The validity of the certificate will be for a maximum period of 7 (Seven) years from the date of issue of the certificate subject to the condition that the candidate otherwise fulfils the eligibility criteria prescribed for recruitment to the services in Government of Bihar.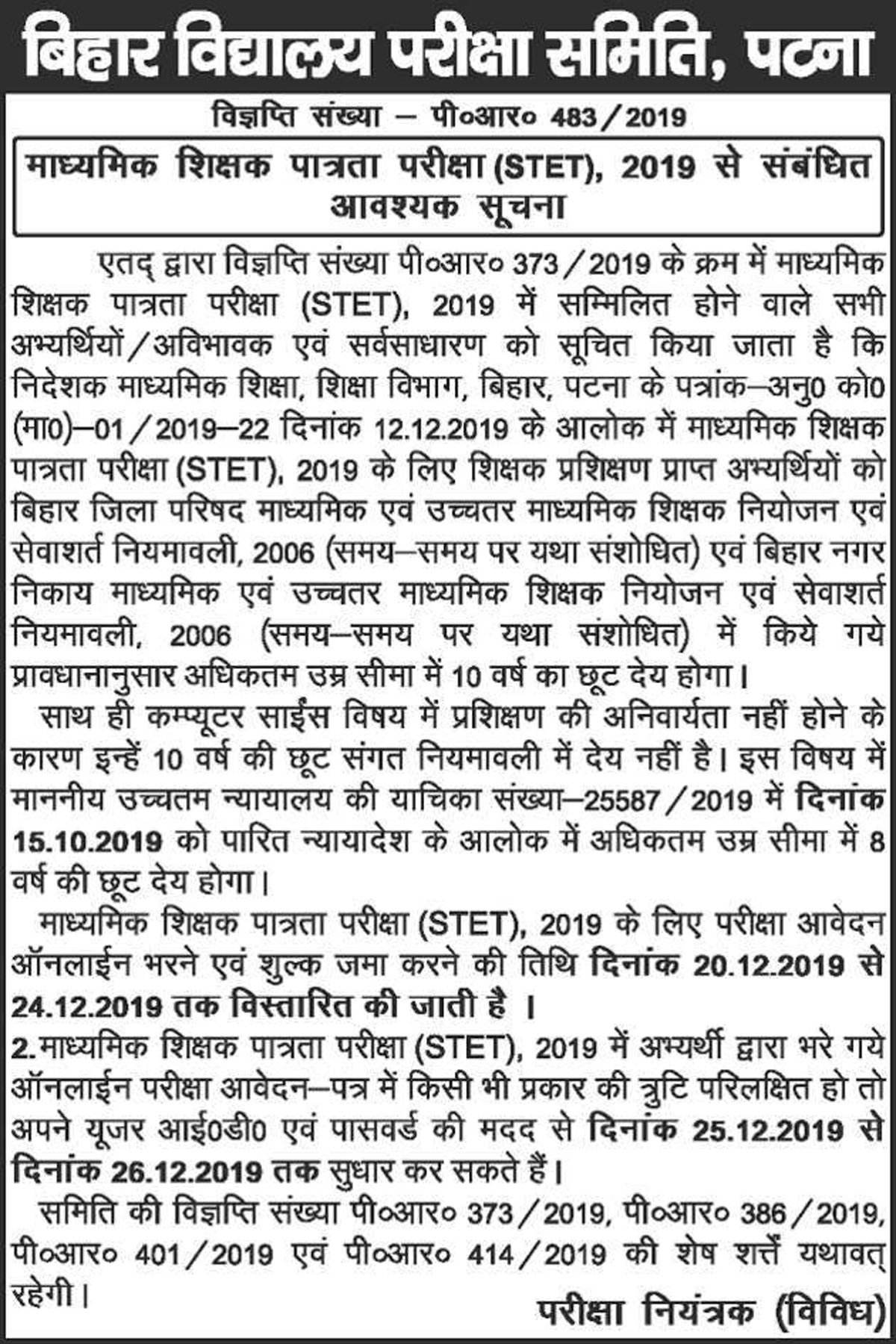 [ad_2]

Source link

Tags: